On top of a small hill, just outside of the city center, lies Syracuse's famous Irish neighborhood, Tipperary Hill. This is where Kristen Smith was born, raised, and eventually decided to return to start her own family. Yet, despite the familiar setting, Kristen's career has taken her on adventures far and wide.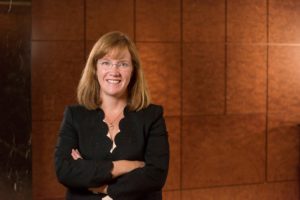 Kristen started out at Cornell University, studying Industrial and Labor Relations. She said her studies provided her with a "good mix of the social sciences, like psychology, history, and economics." She loved the substantive material, and pondered pursuing it further in law school for a brief moment, until graduation when she decided to enter the workforce.
Her first adventures were in professional recruiting – first in Chicago, Illinois, and then in Framingham, Massachusetts. "I was focused on recruiting technology professionals," she said. "I loved the work, and I was fortunate to work for exciting companies, Bose Corporation being one of them. There, I hired the engineers who made their products."
Recruiting was a career that Kristen embraced, but after six years, she was ready for her next adventure. "I wanted more of an intellectual challenge, and I was in the process of moving back to Syracuse to be closer to family. So, I decided to go to Syracuse [for law school]."
When Kristen began her 1L courseload, she wanted to keep an open mind. "I took classes in undergrad that showed me what the labor and employment law practice sort of looks like, so I already knew I was interested," she said. "For that reason, it was important to me to make sure I tried and looked at everything else in law school. I didn't want to box myself in without exploring my options."
Kristen interned for Bond, Schoeneck & King, PLLC in downtown Syracuse during both of her summers in law school. She rotated through all of the departments, again keeping an open mind, before landing in the labor and employment law practice.
Kristen returned for her 3L year ready to finish up her studies and to lead Syracuse Law Review as the Editor-in-Chief of Volume 55. With all the work that goes into a successful volume, Kristen said she made sure the year was not just one of academic growth for the members, but also one of enjoyment.
To do this, Kristen and some friends decided to take a longstanding flag football tradition – Law Review versus the Journal of International Law and Commerce – and kick it "up a notch" with a name change.
"Every year in the fall, sometime around October, we would have a flag football game where Law Review played JILC," she said. "It was always just for fun, no fundraiser involved, but we'd make a day out of it. My 3L year, we renamed it the 'Supra-Bowl'. We made team shirts for each side featuring the game's new name."
Kristen said those memories, as well as the lessons that she learned through editing, were a huge part of her formation and foundation as an attorney.
"As the Editor-in-Chief, I was the last pair of eyes on every article, every page," she said. "For that reason, I really learned how incredibly important it is to never become lazy…to stay completed focused. So, when you translate that into what I do now, you realize it wasn't about the substance of the article at the time. It's about those skills that relate to your attention to detail and your time management."
Editor-in-Chief was an exciting and fulfilling job, and Kristen said she would "do it all again in a second." However, her 3L adventures did not end there.
Kristen, and her husband Dan, found out during her final semester of law school that they were expecting their first child. Before she knew it, Kristen was six months pregnant taking the New York Bar Exam and preparing for her first year as an associate at Bond.
"I had my first child one month after I started work," she said. "Throughout my entire career, I've been able to take advantage of flexible working arrangements. I now have four kids, and Bond has always been supportive."
Today, Kristen has risen up the ranks to become a member (partner) at Bond in the Labor and Employment Department. She has been named a Rising Star by Super Lawyers for the last two years, serves on Bond's Women's Initiative Committee, and has recently been presenting and publishing on the topic of the New York Paid Family Leave Benefits Law.
A large majority of Kristen's caseload deals with defense of employers before the New York State Division of Human Rights, before the Equal Employment Opportunity Commission, and in federal court. She works with a wide range of clients, in terms of both industry and size. Specifically, Kristen noted how exciting it can be to work on a sophisticated legal issue for large corporation one day, and then help a small, family-owned business or not-for-profit the next. While all the work is interesting, she said sometimes the smaller the client, the more fulfilling the work can be.
"There is a different emotional dynamic when you are defending a small family-owned business or non-profit, " she said. "Some of the cases I remember the most are those where the organization was very small, and just trying to do the right thing, when a legal claim from a disgruntled employee tossed its financial security and stability into question. I really enjoy guiding these business owners through the process and coming to a resolution that allows them to continue pursuing their life's work."
So, what advice does Kristen have for current students?
"It is very important to quickly recognize the difference between being a law student and being a lawyer," she said. "In law school, you are in this closed universe with specific questions to answer and that's that. In the practice of law, it's different because it's a completely open universe. You can't think narrowly about an issue. You need to look at many different angles in order to come up with the best solution for a client….Just saying "no, that's not allowed" to a client isn't an answer. You have to anticipate how your advice will impact a client's life or business, and you have to help them work through it."
---
This story was written by Legal Pulse Editor Samantha Pallini and is the third installment of Syracuse Law Review's new monthly feature, "Alum of the Month." Stay tuned for next month's feature on another noteworthy Syracuse Law Review alumnus.