We are proud to announce that the Law Review Note of 3L and Executive Editor Joseph "Joe" Railey will be published this spring!
---
Publication: Buffalo Public Interest Law Journal, Volume 36
Article: Married on Sunday, Evicted on Monday: Interpreting The Fair Housing Act's Prohibition of Discrimination  "Because of Sex" to include Sexual Orientation & Gender Identity
---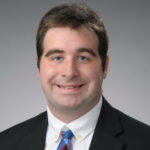 Joe is a 3L at Syracuse University College of Law. He is from Muncie, Indiana, and he attended Ohio Northern University in Ada, Ohio.
During law school, Joe has served as the Executive Director of the Syrian Accountability Project, a senator on Student Bar Association, and on the executive boards of the Syracuse Public Interest Network and Outlaw. Joe is also an Executive Editor for the Syracuse Law Review and Honorary Member of Moot Court Honor Society.
During his 1L summer, Joe interned with the AIRE Centre in London, England. During his 2L summer, Joe interned with Lambda Legal in Los Angeles, California. Joe has also participated in the Community Development Law Clinic and worked as an extern for the Honorable Deborah Karalunas, the presiding justice at the New York Supreme Court, Commercial Division, Onondaga County. Following graduation, Joe will be working in Southern California as an Department of Justice Honors Attorney in the Executive Office of Immigration Review.