Well, it looks like Spider-Man is going to have two Christmases this year. Marvel Studios and Sony Pictures were unable to renew an agreement to share the film rights to the character, which means Spider-Man is leaving the Marvel Cinematic Universe (MCU) and going back to Sony (and not just on weekends). The story broke on August 19, and the internet exploded upon hearing that Tom Holland will no longer star in films with the rest of the Avengers gang. Sony Pictures, which owns the movie rights to the character and produces Spider-Man films through its subsidiary, Columbia Pictures, could not reach a deal with Disney, the parent company of Marvel Studios, to extend its arrangement to cooperate on the production of future Spider-Man pictures. The recent fallout is only the latest development in a custody dispute over Spider-Man that goes back decades and involves a tangled web of legal issues.
Background
The origin story for Spider-Man's copyright goes back to 1962 when the character was created by Stan Lee, Steve Ditko, and Jack Kirby. Even the authors couldn't escape the sticky problems surrounding the use of Spider-Man's intellectual property. Following Kirby's death in 1994, his heirs sued Marvel by invoking the termination right of the Copyright Act of 1976, which allows authors or their heirs to reclaim a copyright thirty-five years after being granted. The Second Circuit Court of Appeals held that Marvel was the statutory author and that Kirby had created Spider-Man as "work made for hire" as an employee of Marvel and had therefore never actually owned the copyright. Stan Lee Media, Inc. (SLMI), a company founded and later abandoned by Lee, filed multiple unsuccessful suits against Marvel, Disney, and Lee claiming that Lee had assigned his copyright to SLMI and that it therefore owned the rights to all the characters.
In 1985, Cannon Films bought the film rights for Spider-Man for $225,000. From there, the rights bounced around multiple studios with many projects in the works—in 1993, there was even a script by James Cameron (writer/director of such films as Titanic and Avatar). Marvel, meanwhile, was suffering financial difficulties and filed for bankruptcy in 1998. Luckily, a Marvel lawyer's Spidey-sense alerted her to the fact that Cannon had never registered the sale of the film rights with the U.S. Copyright Office, and the rights for Spider-Man went back to Marvel. Desperate for cash, Marvel offered Sony Pictures the film rights for many of the lesser-known comic book characters at the time. Sony declined this offer, which included the rights for Iron Man, Thor, Black Panther, Ant-Man, and others for only $25 million. For perspective, the MCU, starring many of the passed-over characters, has grossed $22.5 billion worldwide. Sony ended up purchasing the film rights for Spider-Man for only $7 million, and Marvel stayed afloat following its post-bankruptcy organization by licensing out its characters to movie studios (Iron Man went to New Line Cinema, Hulk to Universal Pictures, X-Men/Fantastic Four/Deadpool to 20th Century Fox). These licenses were based on the condition that films get made every few years. This is why Spider-Man has been rebooted on the big screen four times in sixteen years. When the film option in these licenses expired, the rights reverted to Marvel Studios, which received financing to begin producing movies on its own. Marvel Studio's president, Kevin Feige—like a real-life Nick Fury—began assembling the MCU, starting with Iron Man in 2008.
The Feige Era
Feige's success with Iron Man and the upcoming superhero-crossover, summer-blockbuster The Avengers, prompted the Walt Disney Company to purchase Marvel Entertainment in 2009 and make Marvel Studios a subsidiary of Walt Disney Studios. This means that Feige—the controller of the MCU's storyline and all things creative—now reports directly to Disney.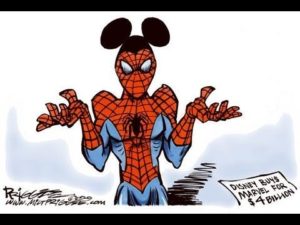 In 2011, strapped for cash, Sony sold the merchandising rights for Spider-Man back to Marvel. Then, in 2015, Feige struck an unprecedented deal with the head of Sony Pictures that allowed the two studios to share the film rights for Spider-Man—leading to his first appearance in the MCU in Captain America: Civil War. Under the agreement Sony would finance, distribute, and keep 95% gross revenue from stand-alone Spider-Man movies (Spider-Man: Far From Home grossed over $1.1 billion) and Marvel would get 5% first-dollar gross from the films, but keep merchandising rights (in 2014, before Spidey even joined the MCU, the character brought in $1.3 billion in revenue from merchandise).
The agreement held up for the first half of this year—a year that has been huge for Feige. The movies Avengers: Endgame and Spider-Man: Far From Home wrapped up the MCU's Phase 3, and Feige unveiled his plans for Phase 4. At the same time, Disney finalized its purchase of 20th Century Fox, meaning the film rights to X-Men, Fantastic Four, and Deadpool are returning home and are now available for use in the MCU.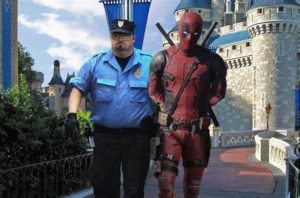 And that brings us up to speed.
Contract Negotiations Fall Apart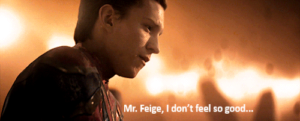 In August, a Deadline article and some Tweets from Sony broke the news of its breakup with Disney. It was revealed that Feige had been actively participating as a producer on Sony's 2018 film Venom starring Tom Hardy (Venom is also a character from the Spider-Man comics and piggybacks on his IP). According to Sony, with Phase 4 and a fresh batch of characters from Fox, Feige had too much on his plate to continue helping with its movies. Sony also said Feige had demanded a producer credit on films he collaborates on, rather than just helping behind the scenes. According to Disney/Marvel, Sony was unwilling to renegotiate a deal where the studios would split the financing and box office proceeds 50/50. The parties walked away from the table and, as of September 5, the "door is closed." Now that Sony is making millions off the films and even took home an Oscar for Spider-Man: Into the Spider-Verse in 2019, Sony has no reason to split the box office gross. Instead, Sony is almost surely going to create its own cinematic universe with Holland and Hardy, and expand on the Spider-Verse, and Disney will continue to make billions from merchandising.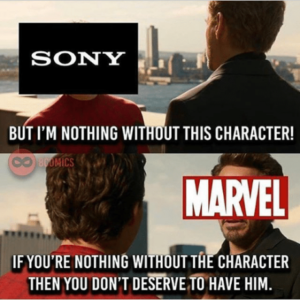 IP Issue
The way these character rights are licensed, a new Sony franchise would mean that none of the MCU characters or other trademarks can legally appear or be mentioned in its Spider-Man cinematic universe, and vice versa. So, no more Tony Stark references (including his glasses) and no more Aunt May-Happy Hogan romance. These issues have come up before. When Marvel launched Agents of S.H.I.E.LD. on ABC (a TV station owned by Disney), it wasn't able to use the word "mutant" to describe people with superpowers because the word's use in that context was trademarked and owned by Fox which, at the time, still owned the rights to X-Men. Prior to Agents of S.H.I.E.L.D., in Twentieth Century Fox Film Corp. v. Marvel Enterprises, Inc., Fox had sued Marvel for breach of contract and violating the Lanham Act when Marvel produced the show Mutant X. Marvel was able to proceed with the show under the condition that no references be made to the X-Men world. It turns out Marvel now keeps a database to track which franchise owns which rights so that they don't accidentally infringe on anyone's IP.
Antitrust Issue
You might be asking, "If Disney bought Marvel, can't they just buy Sony Pictures, too?" Odds are that the Federal Trade Commission or Department of Justice wouldn't allow it under antitrust concerns. Disney's umbrella already covers Marvel, 20th Century Fox, Lucasfilm (creator of the Star Wars franchise), Pixar, and its own original content, so buying another studio would probably violate the Clayton Act. Section 7 of the Clayton Act defines a merger between two companies like Disney and Sony as unlawful if the effect of the merger may be to substantially lessen competition. Technically, Disney could buy Sony Corporation, the parent company of Sony Pictures, but it doesn't seem likely that it would want to get into the PlayStation/Walkman business just to be able to make a couple more Spider-Man movies.
Conclusion
It seems unlikely that the film rights to Spider-Man will never return to Marvel, especially given the character's past of swinging from studio to studio. One thing, however, that is absolutely, definitively certain is that Tom Holland/Spider-Man/Peter Parker is completely gone and out of the MCU. . . for now.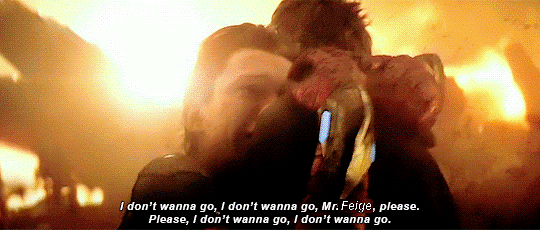 Sources
17 U.S.C. § 101 (2019).
Adam Chitwood, How the MCU was Made: 'Spider-Man: Homecoming' and the Marvel-Sony Deal, Collider (Aug. 14, 2019).
Alex Ben Block, Which Superhero Earns $1.3 Billion a Year?, The Hollywood Reporter (Nov. 13, 2014).
Brent Lang, Marvel's Kevin Feige Will Now Report to Disney, Variety (Aug. 31, 2015).
California v. Am. Stores Co., 495 U.S. 271, 284 (1990)
Clayton Act § 7, 38 Stat. 731, 15 U.S.C. § 18.
Danny Vena, Sony Ends Spider-Man Deal with Disney's Marvel, The Motley Fool (Aug. 21, 2019).
Georg Szalal & Paul Bond, Disney Closes $71.3 Billion Fox Deal, Creating Global Content Powerhouse, The Hollywood Reporter (Mar. 19, 2019).
Jonathan Bing, Inside Move: Rights Snares Had Spidey Suitors Weaving, Variety (May 19, 2002).
Kevin Melrose, How the Hell Does Sony Own the Spider-Man Movie Rights, Anyway?, CBR.com (Aug. 22, 2019).
Looper Staff, Why James Cameron's Spider-Man Never Got Made, Looper (last visited Sept. 8, 2019).
Marvel Characters, Inc. v. Kirby, 726 F.3d 119 (2d Cir. 2013).
Matthew Aguilar, Sony Admits Selling Spider-Man Merchandising Rights Were Short-Sighted, Comicbook.com (Sept. 5, 2017).
Matthew Aguilar, Sony Once Turned Down the Opportunity to Buy Movie Rights to All Marvel Characters for Only $25 Million, Comicbook.com (Feb. 15, 2018).
Matthew Jackson, S.H.I.E.L.D. Showrunners Reveal One Big Marvel Word They Can't Say, SYFY Wire, (Jun. 25, 2015).
Michael Cavna, Spider-Man May Exit Marvel's Universe. What Would that Mean for Tom Holland?, NDTV (Aug. 21, 2019).
Mike Fleming, Jr., Disney-Sony Standoff Ends Marvel Studios & Kevin Feige's Involvement in 'Spider-Man', Deadline (Aug. 20, 2019).
Nicole J. S. Sudhindra, Marvel's Superhero Licensing, WIPO (June 2012).
Samantha Clair, Venom Allegedly Got a Helping Hand from Marvel's Kevin Feige, Movieweb (Aug. 21, 2019).
Sarah Whitten, 'For the Moment the Door is Closed' on Spider-Man Deal, Sony CEO Says, CNBC (Sept. 5, 2019, updated Sept. 6, 2019).
Scott Johnson, Agents of S.H.I.E.L.D. Can't Say Mutant, Comicbook.com (Sept. 6, 2017).
Sharon Waxman, Disney Buys Marvel for $4 Billion, The Wrap (Aug. 31, 2009, updated Sept. 1, 2009).
Stan Lee Media, Inc. v. Walt Disney Co., 774 F.3d 1292 (10th Cir. 2014); Stan Lee Media, Inc. v. Lee, 585 F. App'x 597 (9th Cir. 2014).
Twentieth Century Fox Film Corp. v. Marvel Enters., 277 F.3d 253 (2d Cir. 2002)
Vincent James Scipior, Comment: The Amazing Spider-Man: Trapped in the Tangled Web of the Termination Provisions, 2011 Wis. L. Rev. 67, 87 (2011).
Image Sources:
https://screenrant.com/marvel-studios-spider-man-sony-mcu-deal/
https://i.ytimg.com/vi/YgEYuramIPg/hqdefault.jpg
https://movieweb.com/deadpool-r-rated-disney-fox-merger-marvel-movies/
https://makeagif.com/gif/spider-man-death-scene-mr-stark-i-dont-feel-so-good-3eTFlG
https://me.me/i/sonny-but-im-nothing-without-this-character-marvel-if-youre-12648623
https://www.mensxp.com/entertainment/hollywood/44773-all-the-lines-and-scenes-improvised-by-the-actors-in-lsquo-avengers-infinity-war-rsquo.html