Judge J. Jeremiah Mahoney is the longest serving military judge in U.S. history. He began his career as a Judge Advocate General ("JAG") for the Air Force. He was soon appointed to be a military trial judge and served on multiple tours across the United States and abroad. After thirty years as a JAG (including 21 years as a trial judge and 3 as an appellate judge), he retired from the military and is now the Chief United States Administrative Law Judge at the United States Department of Housing and Urban Development.
Judge J. Jeremiah Mahoney dreamed of being a fighter pilot. After graduating from the University of Notre Dame with a major in Political Science and International Relations and a Commission in the Air Force, his dream was crushed when a final physical exam disclosed that he had a disqualifying eye astigmatism. He was still in the Air Force, but could not fly planes. Lacking any other career plan, he requested an educational delay of active duty, which was granted provided that he commence an advanced degree program immediately. He decided on law school because he figured that a law degree would open more doors than it would close.
Thanks to Syracuse Law, Judge Mahoney started classes two months after he applied for admission, and he became a dedicated member of the Syracuse Law Review. He became the Student Articles Editor and he authored and published several student articles on labor law issues. Editing others' writing made him a better writer. He also initiated a successful effort to make the Law Review journal cover more attractive. Outside of law school, Judge Mahoney served as a resident advisor at Brewster Hall. He also worked in the warehouse at the Schaefer Beer distributorship, operating a forklift, unloading tractor trailers, and loading delivery trucks. His work occasionally overlapped with co-worker and fellow law student Joe Biden, who placed beer at retail outlets.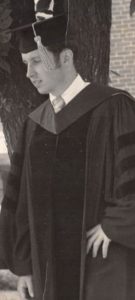 Upon graduation in 1969, Judge Mahoney took the New York Bar exam. He was sleep-deprived for the exam after staying up late the night before the first day of the exam, with his classmate Jim Taylor, to watch Neil Armstrong's first step on the moon. Awaiting the Bar results, he worked at the Hancock Estabrook law firm. When the New York Times published the results, his name was among the successful applicants for the Bar, and he was ordered to active duty to attend the Judge Advocate General ("JAG") school. He was certified as trial and defense counsel, prosecuting and defending 26 cases in his first 18 months on the job, as an Assistant Staff Judge Advocate at Beale Air Force Base in California. Based on his litigation experience, he was appointed as a part-time trial judge. After six months, he was assigned to be a full-time military judge at another base. As his four year service commitment was about end, he received a job offer to become an associate with Hancock Estabrook in Syracuse but, as he recalled the twelve-inch deep tire ruts in frozen slush on East Genesee Street, he decided instead to accept an Air Force assignment to the Philippines as a Circuit Judge for the Pacific and Far East.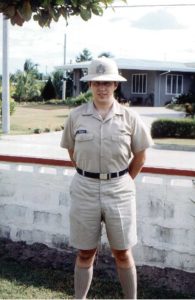 Judge Mahoney holds an impressive record in the military. He served for twenty-one years as a trial judge in multiple tours across the United States and abroad, including California, Washington, D.C., Alabama, Texas, Germany, and the Philippines. He presided at a capital murder trial involving the first use of DNA evidence in the military. He also presided over the first HIV assault trial in any U.S. jurisdiction. He presided over a wide range of criminal trials, at every Air Force Base in the world, including military and wartime offenses, some involving jurisdictional disputes with foreign governments. Most cases involved conventional crimes, including over 20 homicides and murders, one of which involved an enlisted man accused of attempted murder of his wife. While pending trial, he actually killed her in the military courtroom, and attempted to kill the prosecutor and two trial witnesses before fleeing. When captured, he was tried for all of those offenses, and is serving a life sentence—plus a later court-martial sentence for escaping from Leavenworth prison in a garbage truck.
Throughout his career, Judge Mahoney enjoyed presiding over trials and ensuring that young prosecutors and defense counsel sharpened their litigation skills. Despite travel required for most trials, his job was never boring as each trial presented different facts, requiring evidentiary rulings and modification of jury instructions. As an appellate judge for three years, Judge Mahoney authored over 50 individual and panel opinions published in West's Military Justice Reporter.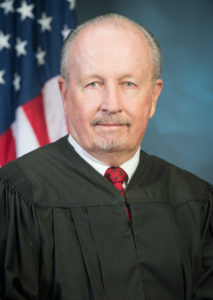 When he retired from the military in 2000, after 30 years of service, he accompanied his wife, then a Major (now Colonel Karen Mayberry, Chief Judge of the U.S. Air Force Court of Criminal Appeals), to her next assignment as Deputy Staff Judge Advocate at Ramstein Air Base, Germany. Living in a small German town, he enjoyed leading ski trips for the military ski club, riding his motorcycle through Europe, and teaching undergraduate law courses for the University of Maryland. However, he grew tired of retirement, and when they returned to the states, he looked for a challenging job. In 2003, he was hired by the U.S. Department of Justice ("DOJ") as a trial attorney in the Capital Case Unit because of his experience presiding at death penalty trials, He made recommendations concerning whether the death penalty should be sought in each capital prosecution pending throughout the country. In those cases where the Attorney General decided to seek the death penalty, Judge Mahoney was available as a consultant to the prosecuting Assistant U.S. Attorneys.
In 2005 he moved on to the Transportation Security Administration ("TSA") to establish procedures to decide appeals from disciplinary actions taken against Transportation Security Officers. In 2007, concerned about his lack of statutory independence in decisions he made at the TSA, he decided to apply to become an Administrative Law Judge ("ALJ"). He passed the exam in 2008 and was interviewed, selected, and appointed by the Secretary of the Department of Housing and Urban Development ("HUD"). Currently, as Chief Administrative Law Judge at HUD, Judge Mahoney presides over a range of matters, including adversarial civil rights hearings under the Fair Housing Act and civil fraud or other disciplinary or enforcement hearings under various federal statutes brought by six other agencies, including the U.S. Internal Revenue Service and the United States Patent and Trademark Office, the Small Business Administration, and the Drug Enforcement Agency.
Judge Mahoney's advice to current law students is to keep an open mind when it comes to their careers. Although he had no interest in criminal law during law school, it became his specialty for over three decades. Additionally, he urges current law students to take courses tested on the Bar exam, as they provide a solid foundation in important doctrinal areas of the law, the skills from which can be applied across other specialized practice areas where the essential law is often learned on-the-job. Finally, he encourages students interested in litigation and the military to apply to the military services to be appointed as a Judge Advocate, which provides an opportunity for great litigation training, experience in many legal specialties, and the opportunity to live and work around the world.
This story was written by Alumni Editor Gaity Hashimi and is the twentieth installment of Syracuse Law Review's monthly feature, "Alum of the Month.' Stay tuned for next month's feature on another noteworthy Syracuse Law Review alumnus!