We are proud to announce that the Law Review Note of 3L and Associate Notes Editor Karianne Polimeni will be published this spring!
---
Publication – Syracuse Law Review, Volume 68
Article – New York on Eyewitness Identifications: Progressive or Regressive?
---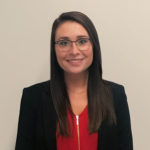 Karianne Polimeni is a 3L at Syracuse University College of Law. Born and raised in Rochester, New York, Karianne will return to her hometown after graduation to work at Harter Secrest & Emery LLP.