We are proud to announce that the Law Review Note of 3L and Executive Editor Veronica Ramirez will be published!
---
Publication: Syracuse Law Review, Volume 68, Book 2
Article: Fashion Statements Turned Endorsements: How FTC Enforcement Could Cripple the Internet's Trendsetters
---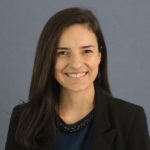 While in law school, Veronica served as an Executive Editor for the Syracuse Law Review and Logistics Director of the Moot Court Honor Society. She was also an arguing member of the ABA Appellate Team, a semifinalist of the Lionel O. Grossman Trial Competition and Mackenzie Hughes Appellate Advocacy Competition, and a quarterfinalist of the Bond, Schoeneck & King Alternative Dispute Resolution Competition.
Veronica Ramirez is originally from Miami, Florida and attended the University of Miami where she earned her Bachelors in Political Science and Public Relations. After her first year in law school, Veronica interned at the New York State Attorney General's office in Rochester, New York. She continued to gain practical experience into her second year of law school, externing at the United States Attorney's Office in the Northern District of New York. Veronica then spent her second summer at Coughlin & Gerhart in Binghamton, New York and will return as an associate after graduation. Currently, Veronica is externing for the Honorable Therese Wiley Dancks.
In addition to being selected for publication in Volume 68, Veronica also earned the Samuel J.M. Donnelly Publication Award and scholarship.