September 2019: Upnit K. Bhatti (L'15)
Written By: Crystal Torres
Alum Upnit K. Bhatti is a Managing Associate at Orrick, Herrington, Sutcliffe LLP. She began her career working as a Litigation Associate for Bond, Schoeneck & King PLLC after completing a successful summer associate position during her time at Syracuse University College of Law. Currently, Upnit is working in her dream role as an appellate attorney in the Supreme Court and Appellate practice group at Orrick.
Since the age of four, Upnit knew she wanted to be an attorney. She remembers contemplating taking accounting classes, but her mother encouraged her to become a lawyer. Upnit obtained a Bachelor of Arts degree in Political Science and History from the University of Toronto in 2012. She had moved to Toronto following the September 11, 2001 attacks, which spurred hostility toward those who practiced her religion. However, since she had deep ties to the city of Syracuse, she moved back in 2012 and started her legal career at Syracuse University College of Law. Initially, Upnit wanted to be a transactional attorney. She thought that she would write contracts for the rest of her life until she worked as a Research Assistant for Professor Germain, who told her that she was destined to become a litigator. From that day, Upnit followed a path that led her to where she is now. However, it was not an easy path. After the passing of her grandfather, her best friend, after her 1L year, she contemplated leaving law school. Professor Bell convinced her to push through, and she overcame the hardship and went on to create an impressive set of accomplishments.
Upnit held numerous, impressive positions during her time at Syracuse University College of Law. She served as Managing Editor of the Syracuse Law Review. Law Review enabled Upnit to develop skills that have been crucial to her success as an attorney. For example, she developed a keen eye for detail and worked well with others in a team. Law Review is also where she formed her closest friendships in law school. As a result of Upnit's remarkable work, she was awarded the Syracuse Law Review Distinguished Leadership Award.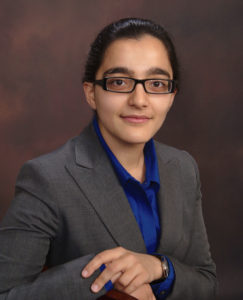 In addition to her involvement in the Syracuse Law Review, Upnit was a Peer Leader and a Student Ambassador for the Diversity and Inclusion Conference. She was also a Moot Court member, and participated in the National Appellate Team and was honored with the Moot Court Executive Director Award in 2015. Furthermore, Upnit's academic achievements did not go unnoticed: she earned numerous CALI awards for classes, including Legal Communication and Research and Law Practice Management. She also received the Pursuit of Excellence Scholarship in 2014, the Honorable Beatrice Krupkin Scholarship in 2015, and the YWCA Champion of Opportunity Award in 2016.
Outside of school, Upnit was just as involved. From 2006 to the present, Upnit has volunteered at Gobind Sadan Interfaith Center where she performs at Indian cultural events. Following her passion for teaching children, she tutored at Sentinal Public School and at Say Yes to Education. She also did pro bono work through the Volunteer Lawyers Project. She was even invited to the Presidential Inauguration in 2013!
Her success undoubtedly surpassed the four-corners of Dineen Hall. Upnit worked as a judicial extern to the Honorable Thérèse Wiley Dancks, Magistrate Judge for the United States District Court for the Northern District of New York, and as a judicial law clerk to the Honorable Theodore A. McKee of the United States Court of Appeals for the Third Circuit. Upnit credits Judge Dancks as being one of the most selfless people she has ever met and she is glad that she had the opportunity to work for her during her time in law school. Upnit's clerkship with Judge McKee was nearly a surprise. When Professor Gouldin heard that she had been invited to lunch with Judge McKee, she insisted Upnit come to her office to prepare for the interview she did not know she should be expecting. Luckily, Professor Gouldin is never wrong, and Upnit landed the opportunity of a life time. Judge McKee gave Upnit the confidence in her writing skills and the encouragement that she needed to succeed. To this day, Upnit has close relationships with both Judge Dancks and Judge McKee, and she considers them to be her mentors and greatly values their guidance.
Prior to her clerkship with Judge McKee, Upnit worked at Bond, Schoeneck & King PLLC, where not only did she form lasting friendships, but she also discovered her passion for litigation. Upnit went on to work as a Litigation Associate at Arnold & Porter Kaye Scholer LLP. As a third-year associate at Arnold & Porter, she was particularly excited to work as first chair on a trial. Although it was nerve-racking, she loved it. This past June, Upnit joined Orrick, Herrington, Sutcliffe LLP as Managing Associate and she is already in the middle of her second trial. Since her work is appellate in nature, she finds herself dealing with tedious preservation issues all the time. Nevertheless, Upnit loves being involved in trials and relishes the opportunity to deliver oral arguments before judges.
If Upnit could take another class at Syracuse University College of Law, she would take Constitutional Adjudicative Criminal Procedure with Professor Chhablani or Professor Gouldin. She would also retake Evidence due to the complexities of the rules in practice. Upnit's advice to current law students is to take every opportunity that comes your way. Her significant involvement at the law school opened many doors for her. In Upnit's own words, "Don't just go to classes, do things." She also urges students to explore different practice areas and workplaces in order to find work that they would be passionate about. For students going into their first jobs, Upnit's advice is to not spread yourself too thin in efforts to create a good reputation and to explore different roles within the firm if you are curious about other fields. She hopes students will make the best of their time in law school just as she once did.
This story was written by Editorial Member Crystal Torres and edited by Alumni Editor Gaity Hashimi, and is the twenty first installment of Syracuse Law Review's monthly feature, "Alum of the Month." Stay tuned for next month's feature on another noteworthy Syracuse Law Review alumnus.