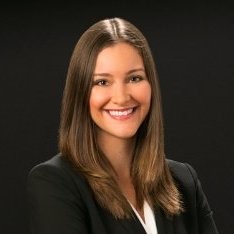 Written By: Alyssa Maldonado
Meet Shawna Benfield – a first-generation college student who embarked on her educational journey at the University of Miami, where she majored in sports business. Shawna graduated from the University of Miami cum laude in 2006.
After completing her undergraduate degree, Shawna set her sights on a new goal – becoming a first-generation law school graduate at Syracuse University College of Law. Syracuse presented a significant change for Shawna, who had grown up amidst the sun and warmth of California and Florida. Adjusting to the frigid winters of Upstate New York took some time, but Shawna cherished her Syracuse University College of Law experience.

While enrolled, Shawna participated in a variety of activities and had many accomplishments. During her second year, Shawna joined the Syracuse Law Review, where she later became an Associate Notes Editor. Shawna also served as a student attorney for the Low-Income Taxpayer Clinic under Professor Nassau and externed for the City of Syracuse.

During her law review tenure, Shawna wrote her note on the prosecution of child soldiers. Her advice on the note writing process is succinct and poignant: choose a topic that truly interests you; note writing demands dedication, and a genuine passion for the subject matter is the secret to success.

At Syracuse, Shawna found inspiration in standout Professors Bell and Nassau, who taught torts and tax, respectively. Shawna's wisdom for law school students is to, "take professors, not classes." She stressed the importance of seeking out the best mentors to cultivate essential skills for the practice of law, even if a subject does not initially spark interest. For example, although tax law did not interest Shawna at first, she was recommended to Professor Nassau's Tax I course. Through this course, Shawna learned the crucial skill of statutory and regulatory interpretation.

After graduating cum laude from the College of Law in 2009, Shawna began her legal career serving as a law clerk. Shawna first clerked for the Honorable Karen Wells Roby, a Magistrate Judge in the Eastern District of Louisiana. This job was followed by a clerkship with the Honorable John E. Steele, a District Court Judge in the Middle District of Florida. Shawna wholeheartedly recommends clerking for a judge if given the opportunity. She found that clerking offers exposure to a wide variety of practice areas, the chance to tackle real-world issues, and allows for the early development of professional confidence. The skills Shawna gleaned through her clerkships ultimately shaped her into the attorney she is today.

Following her clerkships, Shawna transitioned to private practice at Cooley LLP as an associate in the commercial litigation department. While with Cooley, Shawna represented technology and pharmaceutical clients in complex business and securities disputes. While she enjoyed her time at Cooley, Shawna's ultimate career goal lay in entertainment.

Shawna's entertainment practice started with her role as a production attorney at MGM Studios where she focused on the hit singing competition, The Voice. Her responsibilities ranged from handling talent agreements to crafting and overseeing the competition's rules.

Currently, Shawna works for The Walt Disney Company as a production attorney for various programming airing on FX Networks and Hulu. These include favorites such as: It's Always Sunny in Philadelphia, DAVE, and Better Things. Shawna appreciates that her position allows her the opportunity to enable the creative team behind these hits to manage risks while sharing compelling stories with the world.

For young professionals, Shawna's advice is to never give up. She notes that each job offers transferable skills and that your first job does not have to be your last. Additionally, as a parting piece of wisdom, Shawna encourages all law students to, "make room for some fun."

Shawna understands the rigors of law school but emphasizes the importance of enjoying time with friends and engaging in activities beyond the books. In fact, during final exams 1L year, Shawna decided she needed a study break and went to the movies at Destiny USA. During this impromptu break she met her now-husband, College of Law alumnus Andrew Benfield, proving that life's most unexpected moments can lead to wonderful surprises.