Alum Douglas Steele is a partner at McGillivary Steele Elkin LLP, a labor & employment firm in Washington, DC. For nearly thirty years, Doug has represented labor unions and employees across the country, protecting his clients' rights in a variety of proceedings, including claims under the federal Fair Labor Standards Act and free speech rights under the First Amendment. He is also the General Counsel to the International Association of Fire Fighters (IAFF).
Douglas Steele grew up in Baldwinsville, New York and studied finance and law & public policy at Syracuse University School of Management. During college, he explored his interest in the law by taking courses in anti-trust law, employment discrimination, labor law, and constitutional law. Doug's growing interest in the law, combined with his desire to have a career that would make a difference, led him to Syracuse College of Law.
In law school, Doug's favorite course was constitutional law, and the professor that influenced him the most is Professor William C. Banks. Doug was hired as one of Professor Banks' research assistants, and assisted him on the first edition of the first National Security Law textbook in the United States. Once the book was complete, Doug was pleasantly surprised to learn that Professor Banks gave him an acknowledgement in the book. Professor Banks was always very thoughtful and generous with his time, and he and Doug have remained in contact over the years.
Outside of the classroom, Doug was the Lead Articles Editor on the Syracuse Law Review. He enjoyed his time on the Law Review, and found that his experience helped him connect with potential employers, who valued the work ethic and skills that students brought from their experience on a journal. Doug's student note, "Covert Action and the War Powers Resolution: Preserving the Constitutional Balance," was published in Volume 39 Number 3, of the Syracuse Law Review in 1988. He was also on the National Appellate Team, where he developed practical appellate skills, which helped him as a young attorney.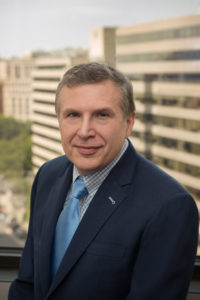 After graduation, Doug worked for four years at a labor law firm in Syracuse. He then moved to Washington, DC and joined Mulholland & Hickey (now McGillivary Steele Elkin LLP). For the majority of Doug's career, his practice was litigation-heavy, representing both public and private sector employees and firefighter union leaders across the nation. His cases involved protecting public employee's rights to Freedom of Speech and Freedom of Association under the First Amendment, reinstating employees, and securing overtime compensation, back pay, compensatory, and punitive damages for employees. His work took him across the country, arguing in both state and federal courts, including the United States Court of Appeals for the Second, Fifth, Sixth, Eighth, Ninth and Eleventh Circuits.
Due to his expertise in labor law, he was asked to testify before a congressional committee on the constitutionality of proposed legislation seeking collective bargaining rights for firefighters and other public safety employees across the United States. This was an honor, and Doug drew from his many years of experience in labor and constitutional law to provide an informed and thorough testimony. Currently, in his role as General Counsel to the IAFF, Doug focuses on advising the IAFF principal officers and the executive board on litigation matters, internal union governance, and on administering legal assistance programs.
Reflecting back on his career, Doug is proud of the choice he made in representing employees and unions. He stayed true to his goal of doing work that makes a positive difference in people's lives, and has made an impact by fighting hard to protect workers' rights. Doug's advice to current law students considering a career in labor law is to ensure that it is a path that they are passionate about, as litigation and protecting workers' rights demands a strong work ethic, dedication, and a genuine belief in the cause.
This story was written by Alumni Editor Gaity Hashimi, and is the twenty second installment of Syracuse Law Review's monthly feature, "Alum of the Month." Stay tuned for next month's feature on another noteworthy Syracuse Law Review alum.