Two of the biggest names in the rap industry are facing serious legal trouble. On May 9, 2022, rappers Gunna (born Sergio Giavanni Kitchens) and Young Thug (born Jeffery Lamar Williams) were among 28 defendants associated with Young Slime Life ("YSL") charged in a 56-count indictment in Fulton County, GA for alleged incidents that go back all the way to 2012. While Young Thug was independently charged with participating in criminal street gang activity, both rappers are being charged with Conspiracy to Violate the Racketeer Influenced and Corrupt Organizations Act ("RICO"), O.C.G.A. § 16-14-4(C), the state's version of the Federal RICO statute found in 18 U.S.C. §§ 1961-1990. The history of how RICO statutes have been utilized provides guidance into how Georgia prosecutors aim to approach the case against Gunna and Young Thug.
What is RICO?
Initially passed in 1970 by Congress, RICO was intended to combat the rise of organized crime through the Mafia by looping in the heads of crime families to their enforcers by claiming that it was all part of one "criminal enterprise." RICO has been used in several high-profile organized crime cases, such as the cases against the Gambino and the Genovese families. The RICO act allows prosecutors to string together crimes committed over time to form one singular case against the criminal enterprise.
The first big RICO case came in 1979 in which the Hell's Angels motorcycle gang was prosecuted in California. However, the gang was acquitted because the jury did not believe that their long hair and tattoos made them part of an organized crime enterprise like the more "formal" Mafia. Perhaps most famously, former U.S. Attorney for the Southern District of New York, Rudy Giuliani, won several indictments against the heads of each of the five Mafia families in New York City. His success was largely due to him connecting all five families into one singular criminal enterprise as opposed to bringing separate actions against each family.
In recent years, RICO has been expanded well beyond the land of the Mafia. Businesses can now be considered an enterprise under the statute and are subject to civil suits in which alleged fraud victims can recover triple the amount of suffered damages. In the world of rap music, recently a RICO case was brought against another rapper by the name of Tekashi 6ix9ine and the Nine Trey Gangsters for incidents regarding video footage of violent robberies and shootings.
Background of the Case against the Rappers
Young Thug is a Grammy-award winning rap artist who is the alleged founder and active leader of the violent street gang YSL, not to be confused with his rap label Young Stoner Life (also abbreviated "YSL") of which he is the founder and CEO. As stated above, Young Thug is faced with two separate charges: conspiracy to violate Georgia's RICO act and participation in criminal street gang activity. The 56-count indictment named several criminal acts, however, one event in particular stands out from the rest. On January 7, 2015, Young Thug allegedly used a rental car used in the commission of a murder of a rival gang member, Donovan Thomas Jr. In addition, two named defendants—Christian Eppinger and Antonio Sumlin—allegedly asked Young Thug for their permission to kill YFN Lucci, another rapper who was recently stabbed at a Fulton County jail in February.
On the other hand, Gunna is Billboard 200 chart-topping rap artist who is signed to Young Thug's Young Stoner Life Records. Unlike Young Thug who was arrested in his home after a police raid on May 9th, Gunna separately turned himself into state authorities on May 11th. He was only charged with one count of conspiring to violate the RICO act. He was listed in five counts of the RICO indictment, which included accusations of possession of methamphetamine, marijuana, and hydrocodone with intent to distribute. He was also named in separate counts for theft by receiving stolen property.
The Current Case
The 88-page indictment is broken down into three parts. "Part 1: The Conspiracy" alleges that the 28 defendants were part of a criminal enterprise known as Young Slime Life (once again, "YSL"). The conspiracy aimed to obtain money, weapons, and property, receiving law enforcement and court proceedings through intimidating witnesses, and preserving, protecting, and enhancing the reputation of YSL. "Part 2" breaks down YSL into excruciating detail. Most importantly, YSL as a street gang was allegedly founded by Young Thug, DK (Walter Murphy), and Tick (Trontavious Stephens) in 2012 in the Cleveland Avenue of Atlanta, GA. YSL is supposedly affiliated with the high-profile Bloods gang and uses identifiers such as colors, clothing, tattoos, and hand gestures. "Part 3" includes 182 conspiracy charges occurring between January 25, 2012 and April 28, 2022.
Conspiracy to violate the RICO Act is found in O.C.G.A. § 16-14-4(C). Specifically, the prosecutors will have to prove that either rapper, together with one or more people, conspired to violate the RICO Act and that any of those people committed an "overt" act to effect the object of the conspiracy. Alternatively, they would have to prove that either rapper individually "endeavor[ed] to violate the RICO Act and committed an overt act to effect the object of the endeavor." Simply put, this means that Young Thug and Gunna must have planned to violate the act with other people and somebody in that group must have completed an act to reach their end goal, or that either Young Thug or Gunna committed an act to reach their goal of the conspiracy.
The prosecution aims to also use evidence from rap lyrics, music videos, and social media posts. A few examples are Young Thug saying he's "Red like Elmo" but he never giggles (which could be used as a nod to their Blood gang affiliation) and a line about desiring to make money so badly that if anybody steps in their path a "F&N [will] put 'em in a wheelchair", a line that the indictment states is an "overt act in furtherance of the conspiracy." Music videos allegedly involve flashing gang signs and jewelry boasting their YSL affiliation, and social media posts by a named defendant Miles Farley show him wearing clothing that says "slime" and asking people "is you slime enough", another example of a potential "overt act in furtherance of the conspiracy."
As seen above, the prosecution is relying heavily on the use of YSL chains and sharing media content such as photos and videos that promote YSL. However, there could be a fatal flaw in their argument. When looked at through a closer lens, the YSL that is being promoted is actually of Young Thug's record label, Young Stoner Life.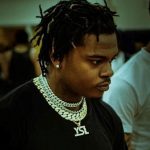 Both Gunna and Young Thug routinely wear these chains, however, they are stylized almost identically to that of the record label. While the actual logo of the street gang YSL is unknown, this discrepancy may assist the rappers in this case.
Conclusion
While the two rappers are facing a steep legal battle ahead in a long tested legal avenue of RICO prosecution, this legal fight is far from over. The use of their lyrics from rap songs could be a detriment, however, the stylization of their chains could help to prove that they were simply promoting the YSL record label instead of the dangerous street gang.
Sources:
Abel Shifferaw, Young Thug and Gunna Arrested Amid 56-Count Indictment for 28 YSL Members Involving RICO Charges (UPDATE), COMPLEX (May 11, 2022, 9:25 AM), https://www.complex.com/music/young-thug-gunna-charged-56-count-indictment-racketeering-rico-thug-arrested.
GA. CODE ANN. § 16-14-4(C) (2022).
Jim Mustian, Tekashi 6ix9ine: What is racketeering? Why is the rapper being charged with mafia crimes?, USA Today (Nov. 20, 2022, 6:57 PM), https://www.usatoday.com/story/life/music/2018/11/20/tekashi-6-ix-9-ine-prof-explains-rico-charges-against-brooklyn-rapper/2073127002/.
Jessica McKinney, Everything We Know About Young Thug and Gunna's RICO Indictment, COMPLEX (May 10, 2022), https://www.complex.com/music/young-thug-gunna-rico-charges-explained/thug-accused.
Nathan Koppel, They Call It RICO, and It Is Sweeping, The Wall Street Journal (Jan. 20, 2011, 5:14 PM), https://www.wsj.com/articles/SB10001424052748704881304576094110829882704.
Racketeer Influenced and Corrupt Organizations, 18 U.S.C. §§ 1961-1990 (2022).
Sidney Madden, Young Thug Launches YSL Records, XXL (Nov. 16, 2022), https://www.xxlmag.com/young-thug-ysl-records/.
Photo curtesy of No Jumper