Syracuse Law Review wishes to celebrate Caitlin Grow for being selected for publication! Cleveland State Law Review has selected Caitlin's article "Don't Tread on My IP Rights: A Law and Economic Analysis of "March-In Rights" Under the Bayh-Dole Act."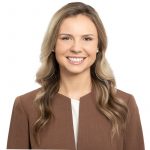 Caitlin's article describes the recent push by many to utilize the government's march-in rights under the Bayh-Dole Act to regulate pharmaceutical drug pricing and discusses the legal and economic implications that would result from using march-in rights in this way.
Congratulations Caitlin!